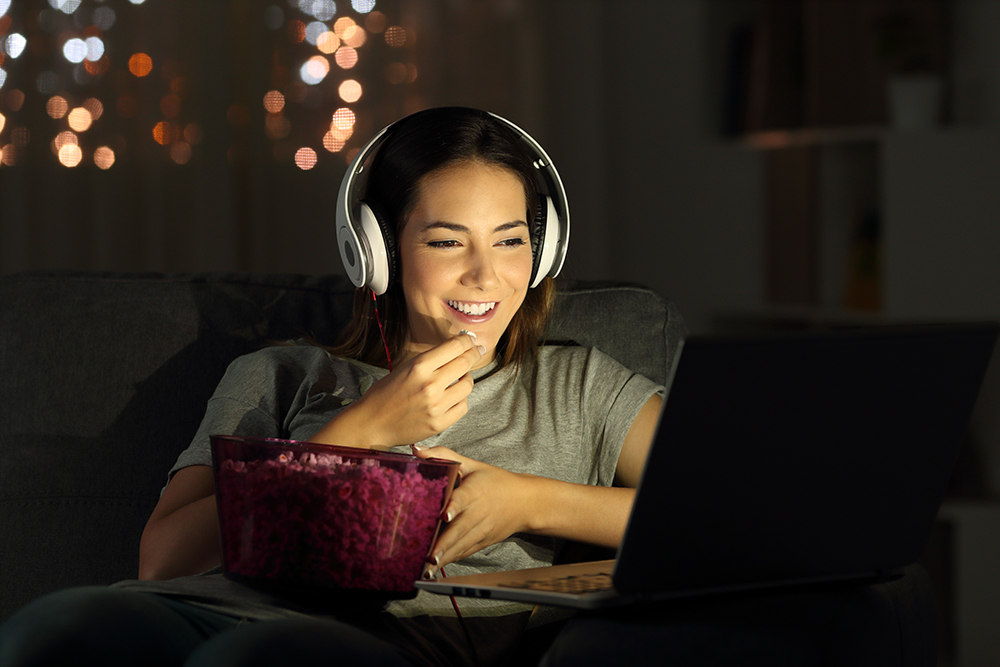 Must watch movies to bring in the New Year (Bigstock)
If bringing in the New Year dancing up a storm at a party doesn't sound like your cup of tea don't worry we have the perfect way for you to spend your evening…binging New Year's movies!
Pick the perfect spot in your house to relax underneath the air conditioner with a cold beverage in hand and enjoy the last hours of 2019 watching something from our Top 10 New Year's picks.
---
10. Boogie Nights
Set in 1977, back when sex was safe, pleasure was a business and business was booming, idealistic porn producer Jack Horner (Burt Reynolds) aspires to elevate his craft to an art form.
Horner discovers Eddie Adams (Mark Wahlberg), a hot young talent working as a busboy in a nightclub, and welcomes him into the extended family of movie-makers, misfits and hangers-on that are always around. Adams' rise from nobody to a celebrity adult entertainer is meteoric, and soon the whole world seems to know his porn alter ego, "Dirk Diggler."
Now, when disco and drugs are in vogue, fashion is in flux and the party never seems to stop, Adams' dreams of turning sex into stardom are about to collide with cold, hard reality.
---
9. The Godfather Part II
This brilliant companion piece to the original The Godfather continues the saga of two generations of successive power within the Corleone family.
Coppola tells two stories in Part II: the roots and rise of a young Don Vito, played with uncanny ability by Robert De Niro, and the ascension of Michael (Al Pacino) as the new Don.
---
8. New Year's Eve
Director/producer Garry Marshall brings together a stellar ensemble cast to celebrate love, hope, forgiveness, second chances and fresh starts, in intertwining stories told amidst the pulse and promise of New York City on the most dazzling night of the year.
---
7. While You Were Sleeping
Sandra Bullock is Lucy—a lonely subway worker infatuated with a gorgeous man she's only seen from afar.
After she saves his life, she's mistaken for his fiancée as he lies unconscious in a hospital. Suddenly, Lucy finds herself in the welcoming arms of the man's family and falling in love with his brother Jack (Bill Pullman).
But when the comatose man awakens, Lucy also finds herself in the worst predicament of her life!
---
6. About Time
The night after another unsatisfactory New Year party, Tim's father (Bill Nighy) tells his son that the men in his family have always had the ability to travel through time.
Tim can't change history, but he can change what happens and has happened in his own life—so he decides to make his world a better place...by getting a girlfriend. Sadly, that turns out not to be as easy as you might think.
Moving from the Cornwall coast to London to train as a lawyer, Tim finally meets the beautiful but insecure Mary (Rachel McAdams). They fall in love, then an unfortunate time-travel incident means he's never met her at all. So they meet for the first time again—and again—but finally, after a lot of cunning time-travelling, he wins her heart.
About Time is a comedy about love and time travel, which discovers that, in the end, making the most of life may not need time travel at all.
---
5. Bridget Jones' Diary
Academy Award winner Renée Zellweger and Hugh Grant star in a delightful comedy about the ups and downs of modern romance.
Bridget (Zellweger), a busy career woman, decides to turn over a new page in her life by channelling her thoughts, opinions and insecurities into a journal that becomes a hilarious chronicle of her adventures.
Soon she becomes the centre of attention between a guy who's too good to be true (Grant) and another who's so wrong for her, he could be just right (Colin Firth).
---
4. When Harry Met Sally
Rob Reiner's romantic comedy documents a very unusual couple. There's never been a friendship quite like Harry and Sally's. From faking an orgasm at the corner deli, to debating the odds of having great sex with a guy named Sheldon, there's nothing Harry and Sally don't do together. Well, almost nothing….
At the start, they are two recent college graduates who meet while sharing a ride together from Chicago to New York. They decide that it is impossible for men and women to be "just friends," and when they reach The Big Apple, they go their separate ways.
Several years later they happen to be seated next to each other on an airplane, and Harry tells Sally about his recent marriage…and several years later, in another random meeting, he relays his divorce…when they become close friends…so close that their respective best friends fall in love.
At a climactic New Years Eve party, they finally must confront and embrace their true feelings for each other.
---
3. About A Boy
Will Lightman (Hugh Grant) is a good-looking, smooth-talking bachelor whose primary goal in life is avoiding any kind of responsibility.
But when he invents an imaginary son in order to meet attractive single moms, Will gets a hilarious lesson about life from a bright, but hopelessly geeky 12-year-old named Marcus.
Now, as Will struggles to teach Marcus the art of being cool, Marcus teaches Will that you're never too old to grow up.
---
2. The Holiday
The Holiday starring Kate Winslet, Cameron Diaz, Jude Law! Two women troubled with guy-problems swap homes in each other's countries, where they each meet a local guy and fall in love.
---
1. Sleepless in Seattle
On her way to her engagement, Annie Reed hears a young boy on the radio wishing that his father would find a new wife.
Unable to forget the story of Sam and his son, something begins to happen to Annie, something she's not really aware of, something like...magic