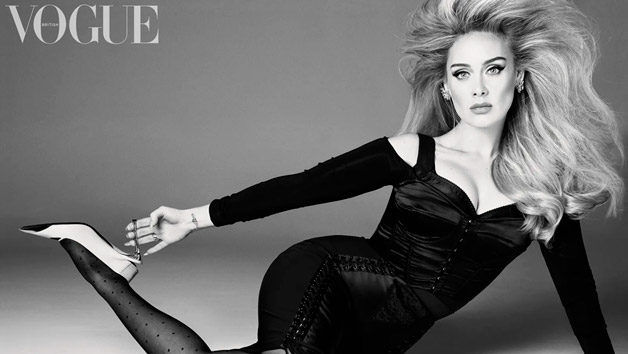 After taking a five-year break from the spotlight, Adele is back with a new look in her latest appearance on not just one, but two covers of Vogue Magazine.
It is the first time ever where both British Vogue and American Vogue has shared the same cover star and it marks the reemergence of the 33-year-old British music star since her last interview five years ago.
British Vogue took to social media to share their version of the cover photographed by Steven Meisel, which talks about her 'new love, new look and new sound.' They shared:
"In a spectacular transatlantic takeover by one of the biggest-selling female artists of the 21st century, for the first time in history #BritishVogue and American @VogueMagazine share a cover star: the inimitable @Adele.
In her first interview in five years, the British icon gets candid with Vogue's @GilesHattersley about new music, body image, romance, divorce, single parenthood and her "self-redemption" album. See the full story in the new issue, on newsstands Friday 8 October. And click the link in bio to read the interview in full."
American Vogue also shared their cover photographed by Alasdair McLellan to social media with the text on the cover saying, "The reemergence of Adele. "I know what I want. And I really know what I don't want." They shared on the post, "Hello, again. For the first time ever Vogue and @BritishVogue profile one cover star. @Adele is back—and this reemergence is different. For Vogue's November issue, Adele opens up about motherhood, anxiety, separation and divorce—and how she's getting ready to be famous again."
In a candid interview with British Vogue, titled, "Adele, Reborn: The British Icon Gets Candid About Divorce, Body Image, Romance & Her "Self-Redemption" written by Giles Hattersley, Adele talks about her body image and weight loss. She said, "People have been talking about my body for 12 years. They used to talk about it before I lost weight. But yeah, whatever, I don't care."
Talking about the reasoning behind the weight loss, she said it wasn't about losing weight, it was about her anxiety. Adele explained, "It was because of my anxiety. Working out, I would just feel better. It was never about losing weight, it was always about becoming strong and giving myself as much time every day without my phone. I got quite addicted to it. I work out two or three times a day."
Read the full in-depth interview here: https://www.vogue.co.uk/arts-and-lifestyle/article/adele-british-vogue-interview
In American Vogue, her interview titled, "Adele on the Other Side" written by Abby Aguirre, Adele talks about her heartbreak during her divorce in 2019 with her ex-husband, Simon Konecki. She said about the divorce and her son Angelo, "If I can reach the reason why I left, which was the pursuit of my own happiness, even though it made Angelo really unhappy—if I can find that happiness and he sees me in that happiness, then maybe I'll be able to forgive myself for it."
"He has so many simple questions for me that I can't answer, because I don't know the answer. Like, Why can't we still live together? That's just not what people do when they get divorced. But why not? I'm like, I don't ******* know. That's not what society does. And: Why don't you love my dad anymore? And I'd be like, I do love your dad. I'm just not in love. I can't make that make sense to a nine-year-old."
Speaking about her new music and upcoming album, she wrote: "I realized that I was the problem. Cause all the other albums are like, You did this! You did that! **** you! Why can't you arrive for me? Then I was like: Oh, ***, I'm the running theme, actually. Maybe it's me!"
When asked if the new record would be a 'divorce album', Adele replied, "He's not one of my exes. He's the dad of my child." If the new album is a divorce album, it's a different kind of divorce album. "It was more me divorcing myself."
"It's sensitive for me, this record, just in how much I love it. I always say that 21 doesn't belong to me anymore. Everyone else took it into their hearts so much. I'm not letting go of this one. This is my album. I want to share myself with everyone, but I don't think I'll ever let this one go."
You can read the full American Vogue interview here: https://www.vogue.com/article/adele-cover-november-2021
One of the world's biggest-selling female artists of all time, her last album "25" was released in 2016 and reached number one on the Australian charts. She recently teased her first comeback single since her last song "Water Under the Bridge" which was released in 2016. A clip of the new single titled, 'Easy on Me' was shared online in a teaser video giving Adele fans a taste of what's to come in her new chapter of music.
Image Credit: (@britishvogue / Instagram)