No mask? Drop down and give us 25! Foreigners in Bali found breaching coronavirus regulations have been forced to do push-ups in public as punishment.
Images and footage have been circulating online showing Balinese police stopping tourists not wearing masks and demanding them to do 25 push-ups.
In footage shared by the Badung District Police (Polisi Pamong Praja Kab Badung), Balinese military and policemen are seen enforcing a foreigner to do the unusual punishment.
The caption says: (Translated from Indonesian)
"Prokes action against foreigners in the Canggu area, related to reports of local community unrest that foreigners are often stubborn and violate not wearing masks and helmets."
In the video, the man tries to explain that he has a damaged nerve in his neck and that he can't exercise. The officer doesn't accept the excuse and makes him do 25 push-ups. When satisfied with the punishment, he gives him a mask to wear and gets his details.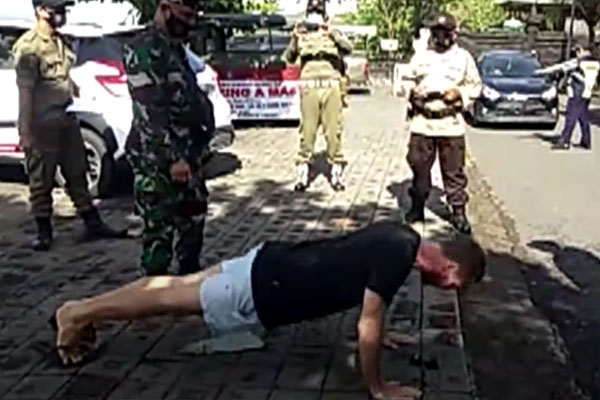 ABC News reported that 8,864 offences occurred in Bali this week alone. Speaking to Public Order Agency chief (Gusti Agung Kerta Suryanegara), the ABC explains that 80% of violations were by foreigners. He says those who committed minor mistakes, such as forgetting to wear their masks were made to do push-ups or sweep the streets.
The segment also showed one Balinese local taking the rules to the other extreme with footage of their four-legged friend wearing a mask.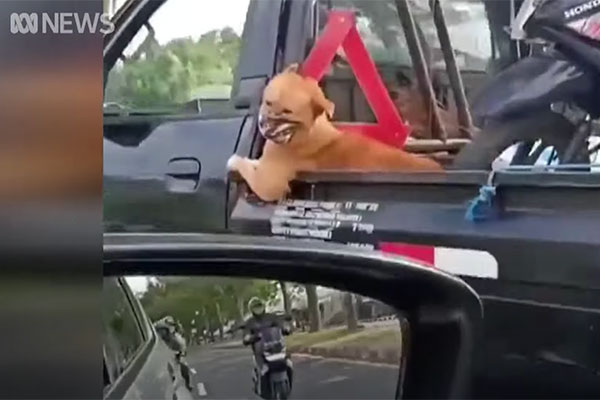 A mandatory mask rule was introduced in September 2020 with a fine of IDR100,000 (9.23 AUD) for violators caught without masks in public areas. Almost 600 people have died from coronavirus in Bali with a total of 21,000 confirmed cases.
Images: (Screenshot from ABC News)